Posts Tagged 'browser'
Friday, February 11th, 2011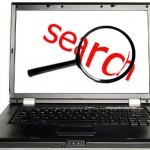 SearchStatus is a toolbar extension for Firefox and SeaMonkey that allows you to see how any and every website in the world is performing. Designed for the highly specialised needs of search engine marketers, this toolbar provides extensive search-related information about a site, all conveniently displayed in one discreet and compact toolbar.
For every site you visit using, SearchStatus lets you view its Google PageRank, Google Category, Alexa popularity ranking, Compete.com ranking, SEOmoz Linkscape mozRank, Alexa related links and backward links from Google, Yahoo! and MSN. This combined search-related information means you can view not only the link importance of a site(according to Google and Linkscape), but also its traffic importance (according to Alexa and Compete), so providing a balanced view of site efficacy.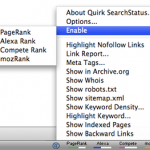 The SearchStatus Mozilla Firefox/SeaMonkey extension appears unobtrusively at the bottom of the browser on the status bar.
If you choose to view backward links for a particular page, they open in new tabs in the same browser window. Disable the automatic PageRank, Alexa, Compete or mozRank queries and they fold away from view.
Conclusion: A useful extension and indispensable for web marketing experts.