Posts Tagged 'chat'
Thursday, August 4th, 2011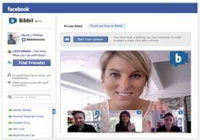 The world's largest online network with over 750 million users, Facebook launches group and video chat features!
Facebook CEO Mark Zuckerberg announced the new features at a press conference.
The video chat in cooperation with Skype is now available and easy to operate.
With just one click the function can be activated. Users do need a camera and a microphone at the PC.
Another new feature is the ability to chat with multiple friends. According to Zuckerberg, Facebook has worked on the changes about half a year.
Wednesday, February 23rd, 2011
Microsoft announced Monday that Facebook chat is now available to Hotmail users worldwide, wherever Facebook has a presence.
Microsoft first added Facebook chat to Hotmail back in September, but at that point it was only available in six regions. Several weeks ago, the feature went global via Windows Live Messenger, and it is now available everywhere via Hotmail, too. (more…)