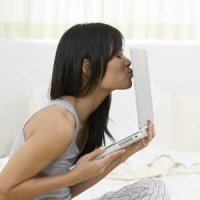 The Philippine government has passed a law that is in the cybersex made punishable in the broadest sense. The rule is part of the Comprehensive Cybercrime Prevention Act, signed on the 12th of September. Besides cybersex the law includes other online crimes such as hacking, identity theft, spamming, libel and child pornography.

As the BBC reports, the Philippine law enforcement agencies want to build special police units in order to better fight cybercrime. Appropriate courts with specially trained judges should also be established.
As cybersex offense under the law applies the deliberate, direct or indirect participation in the exhibition of genitals or sexual activity by a computer system. Violations of the law is now punishable with up to 250,000 Philippine pesos (currently about 4,600 euros) and imprisonment up to six months.
This at first sight strange-looking prohibition here has a serious background: According to the BBC, there is in the Philippines a real industry of relevant webcam chat portals.
Criticism of the law, however, was heard in a very different direction. The Philippine Center for Media Freedom and Responsibility (CMFR) complained, that the libel provisions in the Act taken could threaten press freedom. This now also transferred to the online environment offense had been used in the past frequently by those in power to intimidate journalists.
Tags: online, Philippines