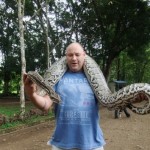 After an approximately four feet long Python had been chasing some residents fear, the snake in the town of Cainta, province of Rizal was caught on Tuesday morning.
The constrictor was seen on a vacant lot in the San Andres village after residents told that a python had eaten chicken in the area, said one resident, who had captured the snake.

The man had the opinion that the Python would have sought a place to rest after the last meal. He said he was able to tie quickly the snake's mouth with tape.
The constrictor was handed over to the Environment Office.
Tags: Luzon, Philippines