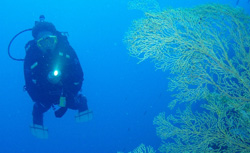 The Philippines was chosen as one of the top diving destinations of the world during the recently concluded 19th Marine Diving Fair in Japan.
The country was voted as Best Diving Area and Best Dreaming Area, alongside heavyweights such as Maldives and Palau, the Tourism Department said in a statement.

Four companies – 2 from Cebu and 2 from Bohol – were also recognized:
Blue Coral, Cebu – Favorite Dive Operator
Good Dive Shop, Bohol – Favorite Dive Operator
White Sands Beach Resort, Cebu – Best Diving Resort Hotel
Bohol Tropics Resort – Best Diving Resort Hotel
"We are particularly proud of our strong showing in the Best Diving Area category, which has placed us in the company of some of the most acclaimed dive countries in the world," former Tourism Secretary Alberto Lim said.
"We anticipate that the Philippines will secure a more significant slice of the Japanese diving market after these latest successes, especially that Japan has been very supportive of encouraging 2-way tourism between our countries."
The Marine Diving Fair, which began in 1993, is considered one of the largest dive and beach resort exhibitions in Asia. This year's event featured 213 exhibitors from 59 countries and attracted over 50,000 visitors.
The Tourism Department estimates that the Japanese scuba diving population at 5 million. It added that Japan is the third largest source of foreign visitor arrivals to the Philippines.
Tags: diving, Philippines