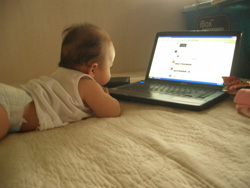 Did you know that the minimum age allowed to use Facebook, is 13 years? This is based on the U.S. federal law COPPA (Children's Online Privacy Protection Act), which currently prohibits U.S. companies to store personal information from children. Standing in the opinion of Mark Zuckerberg, the founder of Facebook, this network should also be open for children under 13. Zuckerberg, sees its network as an educational platform, which has something to do with upbringing. So students should learn online together and motivate each other.

Despite the ban children romp already in the social network of Zuckerberg. An investigation showed, that already 5 million children below 10 years are member of Facebook and they are active, without adults to supervise this. Although you must specify your date of birth, if one join Facebook, but this is not checked.
For Google, the minimum age is even 18 years, which applies to all Google services, such as Google Mail (Gmail) and Google's new social network Google+.
What is your opinion on a specific minimum age for Internet services and social networks?