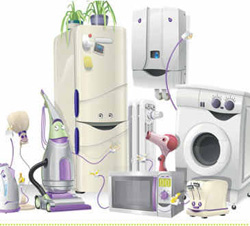 There are obviously 2 – 3 different power systems in the Philippines, depending on the island. All the electricity networks work with around 230 -240 V as in many western countries but with 60 Hz (50 Hz in many other countries), which will cause some appliances brought from other countries do not work properly. E-tools, electric motors, washing machines etc. may run too fast and can overheat and burn easily. Most electrical devices one should better buy in the Philippines than to bring it for a lot of money to the Philippines.
Power System 1: 2 phases, 2 x 110 V to earth is measured. Measured against each other resulting in the then 220 V, similar to 3 phases in many western countries. Both house supply lines should be insulated.
Power System 2: 1 phase and one neutral, 1 x 220-240 V on the phase, as in many other countries also. One of the two house supply lines is blank.
The tourist is with the devices carried by him in the Philippines usual in little trouble. In general, these are only mobile phones and laptops. In any case, you should buy an adapter. However, these adapters one can also buy almost anywhere in the Philippines very cheap. Almost everywhere one finds the system A, seldom type B. So an adapter to type A is usually sufficient. Who wants to be safe can bring also an adapter to type B. To compare voltage and frequenzy of your country with those of the Philippines and get some ideas which adapter you may need when you visit the Philippines, you may visit this websites:
Mains electricity by country (Wikipedia)
Electrical systems (Wikitravel)
Adapter or Converter for Foreign Travel
 Type A is the most prevalent system in the Philippines.
 Sometimes there are also Type B. This system is mainly used for air conditioners.
 The adapter for the system A is usually sufficient for a vacation in the Philippines.
 Who wants to be sure, may also bring an adapter for the system B.
Grounding is in the Philippines almost unknown. Who wants to be settled in the Philippines, should therefore bring an RCD circuit breaker and install in the house. Who is planning to build a new house in the Philippines should bring some installation materials and a corresponding amount of switches and sockets. One can and should of course also install one or the other Philippine outlet, so that the friends and acquaintances sometimes can operate and charge their cell phones or other electronic devices.
Radio clocks from Europe will not work in the Philippines because of the lack of the radio signal, also some cheap radio alarm clock which are operating at 50 Hz.
Electromechanical switches may also not work properly in the Philippines, may run too fast at the 60 Hz.
Water heater from other countries are totally unsuitable for the Philippines, because they consume too much energy (about 18 KW) and they are usual designed to heat water by at least 30 degrees, which is not required in the Philippines, because the water already comes with about 20° C (in temperate climate about 8 degrees C). For hot water one just need the construction of a primitive solar system with some black pipe on the roof, the water get hot.
VIDEO – DVD – VCD: In the Philippines the TV system is NTSC. It may cause problems to play brought VHS tapes in the Philippines, except that at least one of the two devices, TV or VCR, is reversible. Video cassettes are useless anyway after a short time because of the humidity and pollute the video head. There are also problems with brought VCDs and DVDs in some built in VCD / DVD players in stereo systems. Normal, external DVD players can play both, or they are reversible. The DVD player and TV one should buy in the Philippines. For televisions, there is also another variable that is often forgotten: the image resolution. This is in the Philippines 525 lines / 30 frames and is not identical with the resolution in other countries. This can lead to synchronization problems and is another reason why such equipment should be better bought in the Philippines.
More: World Analogue Television Standards and Waveforms

Computers can be bought relatively cheaply in the Philippines, you should definitely bring only one or several keyboards if your language does not fit with the standard English keyboard. In addition, you should use the PC with an UPS (approx. 450, – Peso) only to protect the PC from power surges. Otherwise RAM, hard disk, motherboard and CPU might be shot quickly. These UPS one can find in any computer shop. Important: in addition the PC must be grounded (a cable clamped to the back at the PC and out through the concrete floor is sufficient), otherwise after a short time the memory modules might be damaged.
Users of laptops, netbooks or laptops should use an USB cooling pad (additional fan). You can buy this in the Philippines for about 300-500 pesos. Otherwise it may come with extended use due to overheating cause by the climate. Even these devices should bought in the Philippines when they will be permanently (not just for a holiday) operated there.
Finally, once again the advice: Electric equipment of all kinds which will be operated permanently in the Philippines (gifts to Filipinos or in case of emigration to the Philippines), should rather be bought in the Philippines. In addition to the described technical difficulties, one should think also about possible import taxes when considering the import of such equipment, which can sometimes be substantial!
Tags: emigration, Philippines, travel